Leopard Frog marries Old World sophistication with New World sensuality to create complex yet well balanced couture Cape wines pleasing to the mind, body and soul.
We handcraft award-winning iconic wines that integrate the structure and sophistication of Old Word cultivars with the sensuality and approachability of New World varietals.
To achieve such arrangements, Leopard Frog combines handfuls of premium varietals grown on family-owned farms in the heart of the historic wine capital of South Africa, Stellenbosch. Grapes have grown on these valleys and slopes for over 300 years, and the ensuing confluence of historic terroir and high-quality cépage bestows upon Leopard Frog wines their unique identity and character, particularly the nuances of fruits, spices and herbs found within every bottle of Leopard Frog wine.
Leopard Frog's commitment to the ideal integration of terroir and cépage is reflected in the cellar's award-winning emblem. This emblem was extracted from a cedar wood carving by well-known Coast Salish artist Jody Wilson commissioned for the winemaker's private art collection. In First Nations' culture, the frog often symbolizes the ideal integration of earth and water in nature and serves as a messenger of wealth. Leopard Frog honours this heritage and respect for nature in the wealth of sensations unfolding in every bottle of Leopard Frog wine.

Leopard Frog was founded as the vision of winemaker and proprietor Dr. David John Bate. David is a 4th generation Canadian and the 13th recorded generation of the Bate family of English and Swiss origins. His family traces its agrarian roots back to the times of William Shakespeare, Ben Jonson, Francis Bacon, the reign of the Virgin Queen Elizabeth I in England and the Ancien Régime in Switzerland. The name 'Bate' is derived from the old English surname 'Bartholomew' in honour of the patron saint of vintners.
David earned a Bachelor of Arts, Juris Doctor and Master of Public Administration from the University of Victoria before earning a Post Graduate Diploma in Asia Pacific Management from the McRae Institute of International Management at Capilano University. He subsequently earned a Master of Business Administration from Institut des Hautes Etudes Economiques et Commerciales in Paris, France and a Doctor of Public Administration from the University of South Africa.
An investment banker by practice, David first fell in love with South Africa's vineyards upon his arrival in the country at the dawn of democratic South Africa. He studied the country's wine industry for over 10 years and took several courses at the Cape Wine Academy before becoming the first person to earn a Master of Science from the Bordeaux International Wine Institute in France. Determined to bring his family's agrarian traditions to South Africa, David launched Leopard Frog to produce unique, bespoke wines. He subsequently founded the United Nations of Wine (www.unitednationsofwine.com) as a sister cellar to produce affordable, earth-friendly wines.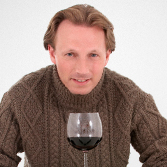 'Old World wine is like a romance of enchanted entanglements. New World wine is like a quickie that gratifies the senses. My wines deliver the best of both worlds: big, bed-rattling sensations on the first taste but even greater pleasures over time.'
In different ways, David creates a truly enjoyable but exclusive lifestyle experience within each bottle of Leopard Frog wine: "I am at heart a couturier of noble wines. My creations are designed to unfold a multitude of sensations to touch your mind, body and soul in the most pleasurable ways."
Enjoy the rich and rewarding experiences that Leopard Frog brings to life.